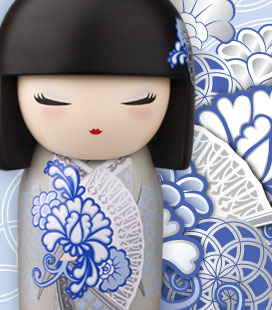 The kimmidoll™ brand was conceived following a long standing passion with elegant decorative gift and homeware items inspired by Eastern culture. The traditional Japanese Kokeshi dolls are a perfect example of this simplistic Eastern beauty.
It is this philosophy of bestowing luck and good fortune upon friends and family that is behind the creation of the kimmidoll™ brand. Kimmidolls™ are contemporary collectable dolls combining a fusion of traditional and modern creative sensibility.
Kimmidoll™ is a family of contemporary doll characters, each lovingly designed to represent "Life's True Values". As a beautiful collectable or as a home decorative item these gorgeous dolls will bless all the important moments in your life.
The beauty of the kimmidoll™ range lies in the gorgeous inspirational values that each doll expresses. While they look individual, there is one philosophy that all the kimmidoll™ share, and that is about celebrating important values in life's journey such as kindness, happiness, joy and respect. The kimmidoll™ range allows you to celebrate these values with your friends and family. Each gorgeous kimmidoll™ comes with its own collector's card.
The kimmidoll™ design philosophy is inspired by the beauty of nature and the world around us, as well as the inspirational values that each doll represents. The design team infuse much love and care into each kimmidoll™ design. The artwork and graphics used on each kimmidoll™ is inspired by traditional Eastern artwork and contemporary Western artwork symbolism. Each design attempts to achieve a balance between the two cultures to create kimmidoll™ characters that are modern and that the kimmidoll™ collector can identify with.Upcoming 2021 Nike Dunk Release Dates – nike tiempo ii jersey green black friday specials – CopperbridgemediaShops | nike roshe jacquard print shoes , Kids Air Jordan — IetpShops